Envelopes come in a variety of sizes and colors. You can order them as small
as coin size to as large as 12x16! You can print black ink, colored ink, 2, 3, 4
and even full color!
You can print one side or both and can even print on the inside flap for certain
styles. Printing on window envelopes and regular envelopes, offering, donation,
coin, catalogs and special occasion envelopes is available plus many
more, depending on what you need!
Prices are listed for #10 Regular and #10 Window envelopes, for all other
types contact us for a price quote!
Pricing for Envelopes
(Prices DO NOT include a ONE TIME set up fee of $10.00)
Black Ink _ #10 Regular
100 - $54.00
250- $62.00
500-$74.00
1000- -$100.00
Black Ink - #10 Window
100 -$54.00
250 - $63.00
500- $76.00
1000 -$104.00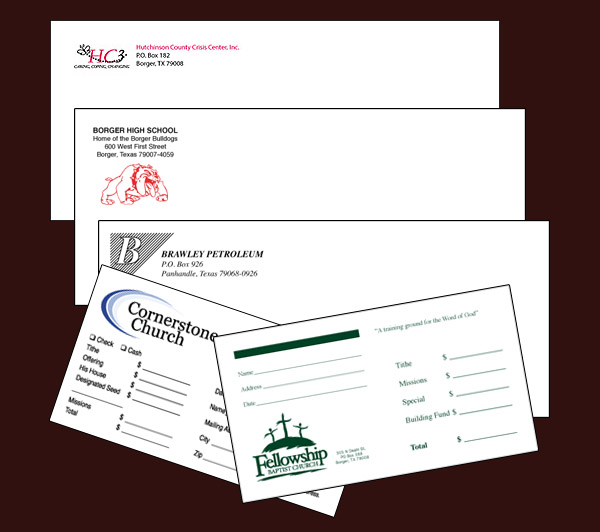 Pricing for Envelopes
(Prices DO NOT include a ONE TIME set up fee of $10.00)


Black Ink _ #10 Regular
100 - $54.00
250- $62.00
500-$74.00
1000- -$100.00
Black Ink - #10 Window
100 -$54.00
250 - $63.00
500- $76.00
1000 -$104.00